Advertise (Buy a banner)
OUR WALLETS' ADDRESSES
Bitcoin:
1DWRAXxx2HPMr1pz2a8c3m43kAA9Hb9qFf
---
PerfectMoney:
U11732840
---
Payeer:
P48043656
---
Ethereum:
0x87Fd2DB9a2a9813d961F41F1705FA3d8779Dfba8
---
BitcoinCash:
qpgeqkqlkykuuqa7lkve7uc92nqmj0jh8qx5d3qwcn
---
You'll accepting our terms by click on PAYOUT button. read terms
---
If you'd like to pay by other payments

---
Locations and prices: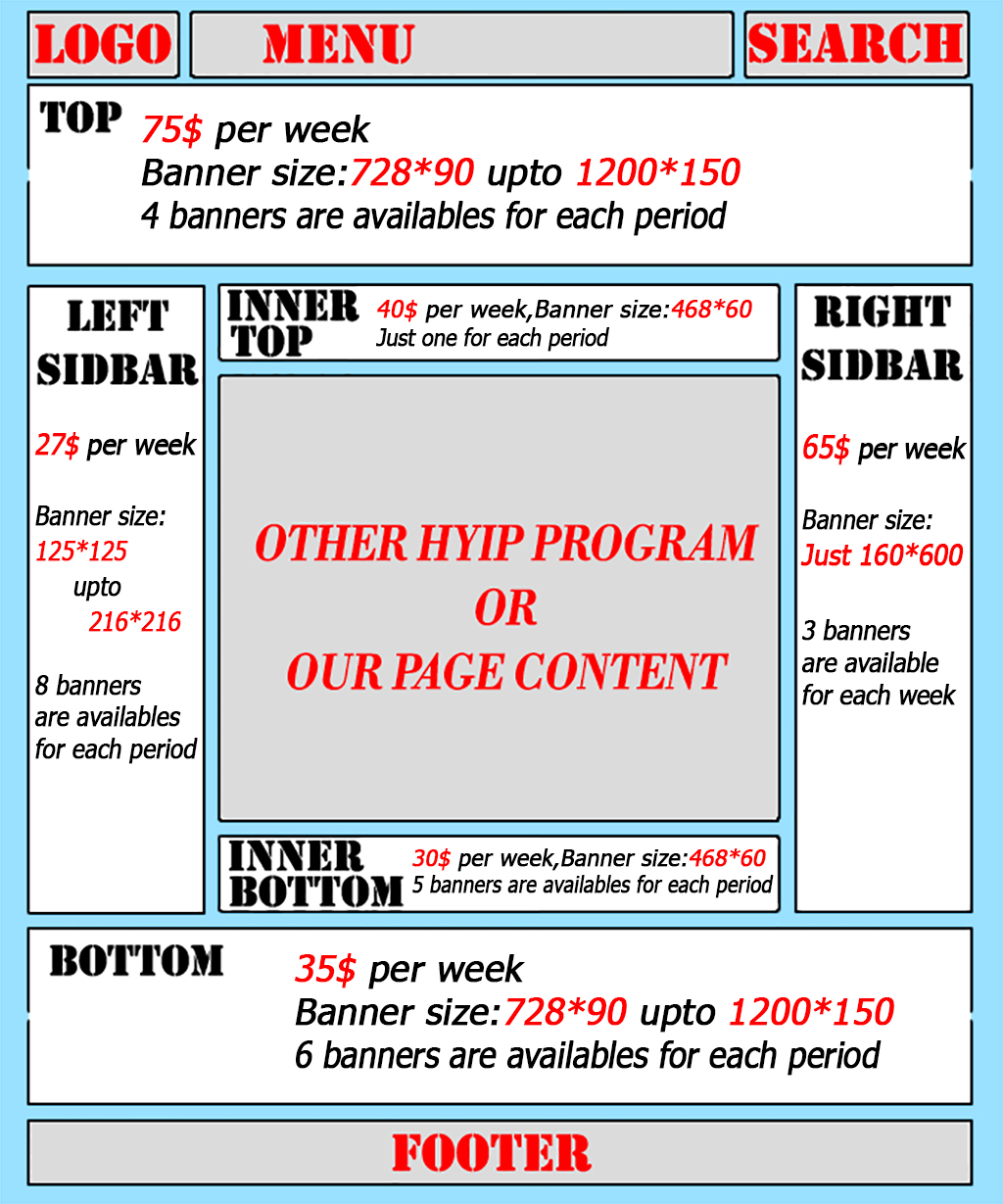 ---
Why you should give us your advertise?
Here is the best place to buy a banner, a lot of new users come through the searching words about hyip in google and also a lot of old users who work with us for long time.
We get a lot of unique visitor per day
**We have a lot of best position in google with a different keywords.

All banners are static (no ones is rotating)

If you want to paying for

2weeks you'll get 10% OFF

, and if you'd like paying for

a month you'll get 30% OFF

We let you use any URL shortener to track and analysis.
**Even you can write your own referral link (just for buying a banner).
We are online for more than 2 years.
ETC.
---
OUR BEST OFFER:

send us $350, we'll invest all of it in your program + give you life time (until you're paying) a (125×125) banner for free + a 728×90 for first week will be our gift to you + The amount will be reinvest again and again.
When you used newhyips team services, we will promote your program with different methods and share your program to our social networks with following address
---
Advertise terms & conditions
We do really appreciate you for choosing us. If you want to add your program banner to our site, please read our instructions below.
You are the program owner.
We have the right to deny, remove your banner(s) based on responsibility without explaining and refunding.
All paid ad sales are final. No refunds will be given for ad purchased if you no longer wish to continue.
Best regards.
---