sequonick STATUS:
SCAM
---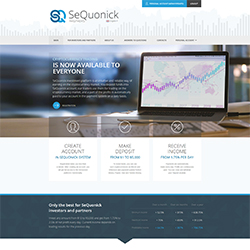 ---
About the sequonick :
Online investment platform SeQuonick is owned by New Sequence Solutions LTD, officially registered in the UK jurisdiction. This allows you to legally work with investors and partners around the world. Cryptocurrency market is relatively young and thus is very dynamic. Cryptocurrency rate fluctuation can reach up to several tens of percent in the course of a day. Such high volatility bears great risks for beginners, but at the same time, opens up enormous opportunities for experienced players…
---
sequonick's plans are:
1.75% Up To 2.5% Daily For Lifetime
Deposit amount: from $1 to $5,000
Payment type: automatic
Period: unlimited
Profit: from 1.75% to 2.5% per day
Periodicity: daily
Return of deposit body: available
---
: 1.75% Up To 2.5% Daily For Lifetime
: 5%
: Feb 2, 2019
: $1
: $5000
: | | |
: SSL security
** GET YOUR REFERRAL COMMISSION BACK **
Invest through our referral links
and get your referral commission back.
---
You will like similar
hyips
in these
filters
:
scam HYIPs (no paying hyip sites)