crypto-africa STATUS:
SCAM
---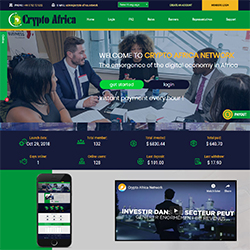 ---
About the crypto-africa :
the CRYPTO AFRICA NETWORK program is exactly what you need! We offer you stable and long-term cooperation, the result of which will certainly be rapid growth for us and guaranteed profits for you. At the heart of our proposal is attracting investments for our company and a profitable cryptocurrency trading. Cryptocurrencies are the most volatile asset in the world….
---
crypto-africa's plans are:
 0.14 % hourly for 960 hours / 3.36% daily for 40 days
Plan
Spent Amount ($)
Hourly Profit (%)
Plan 1
$35.00 – $500000.00
0.14
Calculate your profit >>
 0.15 % hourly for 960 hours / 3.6% daily for 40 days
Plan
Spent Amount ($)
Hourly Profit (%)
Plan 1
$501.00 – $500000.00
0.15
Calculate your profit >>
 0.17 % hourly for 912 hours / 4.08% daily for 38 days
Plan
Spent Amount ($)
Hourly Profit (%)
Plan 1
$1001.00 – $500000.00
0.17
Calculate your profit >>
 0.2 % hourly for 840 hours / 4.8% daily for 35 days
Plan
Spent Amount ($)
Hourly Profit (%)
Plan 1
$2500.00 – $500000.00
0.20
Calculate your profit >>
---
: 3.36% daily for 40 days UP TO 4.8% daily for 35 days / 107 % after 7 days UP TO 135 % after 20 days
: 4%
: instant
: Oct 29, 2018
: $35
: $500000
: Bitcoin | Payeer | perfect_money | Adv Cash | ethereum | litecoin | bitcoin_cash
: SSL security