alliance trade STATUS:
SCAM
---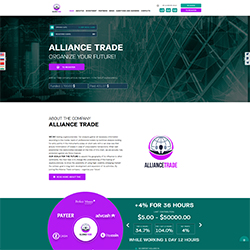 ---
plan in continue.
About this hyip:
We built the system so that you avoid virtually all potential risks. You don't need to buy expensive insider data, and follow orders. For you have been developed a number of investment proposals. Each of them tailored fixed income company, because of this, the risks are lowered dramatically.
Trade is conducted exclusively with our merchant account. You simply open a Deposit in our system, and we earn money for you and charged to your account. Advantages for you: regardless of the outcome, you get a fixed amount every 36 to 72 hours to your account. Cons: if we earn more than you rely on the chosen tariff, the surplus goes to the reserve Fund of the company…..
---
PLAN: 104% – 113% after 36 – 72 hours
---
: 104% - 113% after 36 - 72 hours
: 5%
: Jun 5, 2018
: 5$
: 50000$
: Bitcoin| Payeer| perfect_money| Adv Cash| ethereum| litecoin
: SSL security