4newenergycoins STATUS:
SCAM
---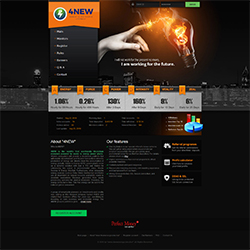 ---
plan in continue.
About the 4newenergycoins :
4NEW is the world's first eco-friendly blockchain ecosytem powered by waste to energy power plants. 4New's ecosystem will provide a blockchain platform that will enable decentralized, peer to peer transactions whereby production of energy can directly meet the consumption of energy globally. Waste to Energy (WTE) power plants serve as a dynamic solution with over a 115 year history for addressing two social & environmental crisis; Waste Surplus & Energy Shortfall…….
---
4newenergycoins's plans are:
130% After 3 days
Plan
Spent Amount ($)
Profit (%)
Plan 1
$20.00 – $3000.00
9.00
Plan 2
$3001.00 – $10000.00
15.00
Plan 3
$10001.00 – $20000.00
20.00
Plan 4
$20001.00 and more
30.00
Calculate your profit >>
160% After 9 Days
Plan
Spent Amount ($)
Profit (%)
Plan 1
$50.00 – $5000.00
25.00
Plan 2
$5001.00 – $20000.00
35.00
Plan 3
$20001.00 – $50000.00
50.00
Plan 4
$50001.00 and more
60.00
Calculate your profit >>
Upto 9% Daily for 15 Days
Plan
Spent Amount ($)
Daily Profit (%)
Plan 1
$20.00 – $10000.00
8.00
Plan 2
$10001.00 – $30000.00
8.50
Plan 3
$30001.00 and more
9.00
Calculate your profit >>
Upto 6% Daily for 25 Days
Plan
Spent Amount ($)
Daily Profit (%)
Plan 1
$50.00 – $20000.00
5.20
Plan 2
$20001.00 – $50000.00
5.60
Plan 3
$50001.00 and more
6.00
Calculate your profit >>
---
: 0.26% Hourly for 499 Hours up to 1.06% Hourly for 99 Hours / 109% After 3 days up to 160% After 9 Days / 5.2% Daily for 25 Days up to 9% Daily for 15 Days
: 4%
: Aug 22, 2018
: 15$
: unlimited
: perfect_money
: SSL security