turbofastcash STATUS:
SCAM
---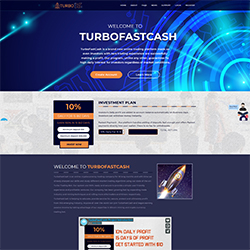 ---
About the turbofastcash :
TurboFastCash is an online cryptocurrency trading company for 18 long months and with time we already sharpen our skills and study different market trading algorithm using our state of the art Turbo Trading Bot. Our system are 100% ready and secure to provide a simple user friendly experience and profitable ventures. Our company has been growing fast by expanding trade industry and mining techniques and rolling more elite traders and Miners respectively….
---
turbofastcash's plans are:
---
: 10% Daily For 15 Business Days
: 7%
: Feb 18, 2019
: $10
: $50000
: | | | | |
: SSL security