medicalopolis STATUS:
SCAM
---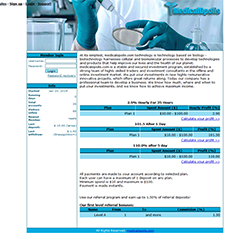 ---
About the medicalopolis :
medicalopolis is a stable and secured investment program, established by a strong team of highly skilled traders and investment consultants in the offline and online investment market. We put your investments in new highly remunerative innovative projects, which offers great returns along. Today our company has a professional team to develop a business. We know how much, where and when to put your investments. And we know how to achieve maximum income…..
---
medicalopolis's plans are:
---
2.9% Hourly For 35 Hours / 101.5% After 1 Day Up To 110% After 5 Days

1.5%
Jan 20, 2019
$10
$100
<img id="pays_per" src="/img/transparent.png" alt="PerfectMoney hyip" />
SSL security