marcuscapital STATUS:
SCAM
---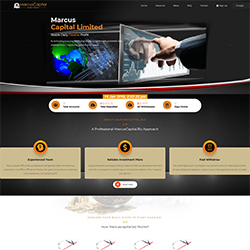 ---
About the marcuscapital :
Marcus Capital Ltd is offering professional management of financial assets on Europe and USA the markets. Asset management is professional administration of different securities (stocks, bonds, etc.) and some other possessions (for example, immovable property). In this case, clients entrust their duties to us because its supposed to be done by specialists, who really know how a market can move. Marcus Capital Ltd works not only with companies, and various funds, but also invites private investors (including collective investment) to earn good profit…..
---
marcuscapital's plans are:
3.1% Daily For 45 Days
Plan
Spent Amount ($)
Daily Profit (%)
BASIC PLAN 1
$25.00 – $500.00
3.10
BASIC PLAN 2
$501.00 – $1000.00
3.20
BASIC PLAN 3
$1001.00 – $5000.00
3.30
Calculate your profit >>
2.6% Daily For 60 Days
Plan
Spent Amount ($)
Daily Profit (%)
DELUXE PLAN 1
$25.00 – $500.00
2.60
DELUXE PLAN 2
$501.00 – $1000.00
2.70
DELUXE PLAN 3
$1001.00 – $5000.00
2.80
Calculate your profit >>
250% Up To 270% After 75 Days
Plan
Spent Amount ($)
Profit (%)
ULTIMATE PLAN 1
$25.00 – $500.00
250.00
ULTIMATE PLAN 2
$501.00 – $1000.00
260.00
ULTIMATE PLAN 3
$1001.00 – $5000.00
270.00
Calculate your profit >>
---
: 3.1% Daily For 45 Days Up To 2.8% Daily For 60 Days / 250% Up To 270% After 75 Days
: 3%
: instant
: Jan 14, 2019
: $25
: $5000
: | | |
: SSL security