magic-profit STATUS:
SCAM
---
Our Invest: $25
Returned on 1st investment: $15
---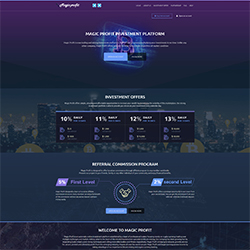 ---
About the magic-profit :
Magic Profit is an automatic online investment platform established by a team of professional traders focusing mainly on crypto currency trading over multiple exchanges and market. Adding value to the team of like minded businessmen specialist in Bitcoin mining. Our company has been growing fast by expanding trade industry and mining techniques and rolling more elite traders and Miners respectively. Magic Profit is helping to educate, provide service for, secure, protect and ultimately profit from this emerging industry….
---
---
magic-profit's plans are:
10% Daily For 12 Days
11% Daily For 13 Days
12% Daily For 14 Days
13% Daily For 15 Days
Min: $10,000
Max: $50,000
---
: 10% Daily For 12 Days Up To 13% Daily For 15 Days
: 5%
: instant
: May 25, 2019
: $25
: $50000
: | | | |
: SSL security, DDoS protection