investmetns-cpa STATUS:
SCAM
---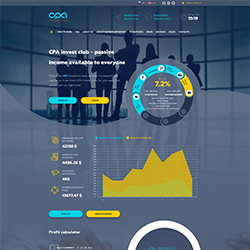 ---
plan in continue.
About the investmetns-cpa :
CPA invest club – is a company that unites a team of young and ambitious specialists in the field of mass communications, IT – technologies, Internet marketing and traffic arbitration. Our company was established with the aim of bringing to the CPA market these professionals, able to effectively conduct advertising campaigns and provide a constant flow of applications to our customers. Today the staff of our company includes more than 300 employees who constantly…..
---
investmetns-cpa's plans are:
In a day 3%
Min. deposit:5$/250р

Max. deposit:25$/1500р

Term of deposit 2 days
Deposit at maturity
In a day 3.5%
Min. deposit:26$/1501р

Max. deposit:100$/6000р

Term of deposit 4 days
Deposit at maturity
In a day 4.0%
Min. deposit:101$/6001р

Max. deposit:350$/20000р

Term of deposit 7 days
Deposit at maturity
In a day 6.2%
Min. deposit:351$/20001р

Max. deposit:10000$/600000р

Term of deposit 30 days
Deposit is included in payments
In a day 7.2%
Min. deposit:875$/50000р

Max. deposit:50000$/600000р

Term of deposit 30 days
Deposit is included in payments
---
: 3% daily for 2 days up to 7% daily for 30 days
: 5%
: Aug 29, 2018
: 5$
: 50000$
: Bitcoin | Payeer | perfect_money | Adv Cash | ethereum
: SSL security