indigoincome STATUS:
SCAM
---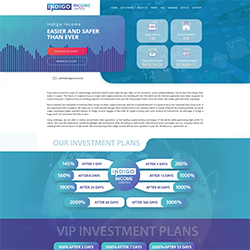 ---
About the indigoincome :
INDIGO INCOME is a leading online investment platform in the lucrative field of digital cryptocurrency market, that strive to give you top-quality service and generate sufficient rewards for all involved. Cryptocurrency trading is becoming a very lucrative business. This new, extremely volatile asset class promises returns greater than anything else on other markets is currently able to. Cryptocurrency is one of the fasted growing industries with market caps reaching over $100 billion dollars in record time….
---
indigoincome's plans are:
103% Up To 145% After 1 Day
116% Up To 280% After 4 Days
150% Up To 560% After 8 Days
250% Up To 1000% After 15 Days
440% Up To 1800% After 25 Days
1000% After 45 Days
2000% After 60 Days
3800% After 100 Days
---
103% After 1 Day Up To 3800% After 100 Days

5%
Nov 12, 2018
$10
$100000
<img id="pays_bit" src="/img/transparent.png" alt="bitcoin hyip" /> | <img id="pays_payeer" src="/img/transparent.png" alt="payeer hyip" /> | <img id="pays_per" src="/img/transparent.png" alt="PerfectMoney hyip" /> | <img id="pays_ethereum" src="/img/transparent.png" alt="ethereum hyip" /> | <img id="pays_lite" src="/img/transparent.png" alt="litecoin hyip" /> | <img id="pays_bcc" src="/img/transparent.png" alt="bitcoin cash hyip" />
SSL security