hourlyclassic STATUS:
SCAM
---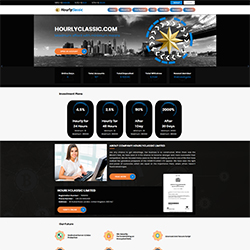 ---
About the hourlyclassic :
Hourlyclassic LTD – is a company which was officially registered in the UK on 5 February 2018. Our goal is to offer each person the optimal solution for multiplying your capital with minimal risk for the investor. Coins Trusted Limited are not affiliated with any other organization and is not an associated company or Department…..
---
hourlyclassic's plans are:
4.2% – 4.5% Hourly for 24 hours
Plan
Spent Amount ($)
Hourly Profit (%)
Plan 1
$1.00 – $100.00
4.20
Plan 2
$101.00 – $1000.00
4.30
Plan 3
$1001.00 – $5000.00
4.40
Plan 4
$5001.00 – $10000.00
4.50
Calculate your profit >>
2.2% – 2.5% Hourly for 48 Hours
Plan
Spent Amount ($)
Hourly Profit (%)
Plan 1
$1.00 – $100.00
2.20
Plan 2
$101.00 – $1000.00
2.30
Plan 3
$1001.00 – $5000.00
2.40
Plan 4
$5001.00 – $10000.00
2.50
Calculate your profit >>
101.5% – 110% After 1 day
Plan
Spent Amount ($)
Profit (%)
Plan 1
$1.00 – $100.00
101.00
Plan 2
$101.00 – $1000.00
103.00
Plan 3
$1001.00 – $5000.00
105.00
Plan 4
$5001.00 – $10000.00
110.00
Calculate your profit >>
VIP PLAN : 2000% After 20 Days
Plan
Spent Amount ($)
Profit (%)
Plan 1
$1000.00 – $10000.00
2000.00
Calculate your profit >>
---
: 2.5% Hourly for 48 Hours UP TO 4.5% Hourly for 24 hours / 101.5% UP TO 110% After 1 day / 2000% After 20 Days
: 3%
: Oct 25, 2018
: $1
: $10000
: Bitcoin | Payeer | perfect_money | ethereum | litecoin | bitcoin_cash
: SSL security