hourcoinsinstant STATUS:
SCAM
---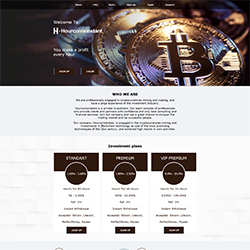 ---
About the hourcoinsinstant :
Hourcoinsinstant is a private investment. Our team consists of professionals who provide clients and partners with confidence and only best consulting and financial services. Join our company and use a great chance to conquer the trading market and be successful people…..
---
hourcoinsinstant's plans are:
STANDART
Plan
Spent Amount ($)
Hourly Profit (%)
1.45% – 1.6% Hourly For 80 Hours
$5.00 – $3000.00
1.60
Calculate your profit >>
PREMIUM
Plan
Spent Amount ($)
Hourly Profit (%)
1.8% – 2.5% Hourly For 48 Hours
$300.00 – $10000.00
2.50
Calculate your profit >>
VIP PREMIUM
Plan
Spent Amount ($)
Hourly Profit (%)
8% – 10% Hourly For 24 Hours
$3000.00 – $100000.00
10.00
Calculate your profit >>
---
1.45% Hourly For 80 Hours Up To 10% Hourly For 24 Hours

3%
Instant
Nov 13, 2018
$5
$100000
SSL security