goldmen STATUS:
SCAM
---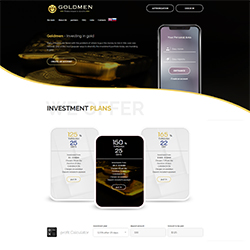 ---
About the goldmen :
GoldMen – an innovative company specializing in the trade on the exchange. The primary sales tool is gold stocks.
We work with skilled and talented professionals, to ensure our customers passive income.
Trading on the stock exchange due to the risk, especially without the presence of knowledge in finance, but at the same time, gold is one of the most profitable investments and sources of income. But many investors still have not found the right strategy or technique of investing in gold assets…..
---
goldmen's plans are:


5% per day for 

25 
days
Investment from:

$ 5 – $ 30000

Charges: 5% per day

Duration: 25 days

CASHBACK 3%

Charges: on weekdays

Deposit: included in payment
6% per day for 25 
days
Investments from:

301 $ – $ 30,000

Charges: 6% per day

Duration: 25 days

CASHBACK 4%

Charges: on weekdays

Deposit: included in payment
7.5% per day for 22 
day
Investment from:

$ 1001 – $ 50000

Charges: 7.5% per day

Duration: 22 days

CASHBACK 5%

Charges: on weekdays

Deposit: included in payment
---
5% daily for 25 days Up To 7.5% daily for 22 days

5%
Nov 26, 2018
$5
$50000
SSL security