gems-industry STATUS:
SCAM
---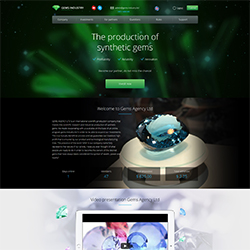 ---
About the gems-industry :
GEMS AGENCY LTD is an international scientific production company that invests into scientific research and industrial production of synthetic gems. We made cooperating with us available on the base of an online program gems-industry.ltd in order to be able to expand our investments. This is a mutually beneficial process and we guarantee our investors high profit that is ensured by our product and technological manufacturing lines. The presence of the word 'GEM' in our company name fully represents the nature of our activity….
---
gems-industry's plans are:
Ruby
Daily percent: 1.5 %
Period: 1 day
Amount: $ 20 – $ 100
Deposit: principal return
Total profit: 101.5 %
Sapphire
Daily percent: 2.5 %
Period: 3 days
Amount: $ 20 – $ 150
Deposit: principal return
Total profit: 107.5 %
Emerald
Daily percent: 3 %
Period: 5 days
Amount: $ 20 – $ 200
Deposit: principal return
Total profit: 115 %
Diamond
Daily percent: 4 %
Period: 10 days
Amount: $ 20 – $ 300
Deposit: principal included
Total profit: 140 %
Pink Diamond
Percent: 300 %
Period: 20 days
Amount: $ 300 – $ 1000
Deposit: after 20 days
Total profit: 300 %
---
: 1.5% daily for 1 day UP TO 4% daily for 10 days / 300% after 20 days
: 1.5%
: Sep 25, 2018
: $20
: $1000
: Bitcoin | Payeer | perfect_money | ethereum | litecoin | bitcoin_cash
: SSL security