dailyprofitpro STATUS:
SCAM
---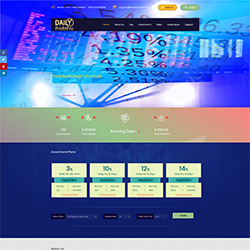 ---
About the dailyprofitpro :
Our company is concerned with the allocation (investment) of assets and liabilities (known as elements of the balance statement) over space and time, often under conditions of risk or uncertainty. Finance can also be defined as the science of money management. Personal finance may involve paying for education, financing durable goods such as real estate and cars, buying insurance, e.g. health and property insurance, investing and saving for retirement…..
---
dailyprofitpro's plans are:
---
3% Daily For Life Time / 10% - 14% Daily For 12 Days

5%
Nov 15, 2018
$15
Unlimited
SSL security