bitmurinvest STATUS:
SCAM
---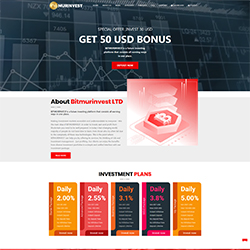 ---
About the bitmurinvest :
Making investment markets accessible and understandable to everyone – this the main idea of BITMURINVEST. In order to invest, earn and profit from Blockchain you need to be well prepared. In today's fast-changing world, majority of people do not have time to learn. Even those who try often fail due to the complexity of these new technologies. This is the point where BITMURINVEST can help you by offering its services. No thinking of risk and investment management – just profiting. Our clients can enjoy the benefits from diverse investment portfolios in a simple and unified interface with our investment package…..
---
bitmurinvest's plans are:
Starter Package Daily 2 %
Plan
Spent Amount ($)
Daily Profit (%)
Starter Package
$30.00 – $200.00
2.00
Calculate your profit >>
Advanced Package Daily 2.55 %
Plan
Spent Amount ($)
Daily Profit (%)
Advanced Package
$201.00 – $450.00
2.55
Calculate your profit >>
Business Package Daily 3.1 %
Plan
Spent Amount ($)
Daily Profit (%)
Business Package
$451.00 – $800.00
3.10
Calculate your profit >>
Gold Package Daily 3.8 %
Plan
Spent Amount ($)
Daily Profit (%)
Gold Package
$801.00 – $2000.00
3.80
Calculate your profit >>
VIP Package Daily 5 %
Plan
Spent Amount ($)
Daily Profit (%)
VIP Package
$2001.00 – $100000.00
5.00
Calculate your profit >>
---
2% Up To 5% Daily For Lifetime

11%
Instant
Jan 7, 2019
$30
$100000
<img id="pays_bit" src="/img/transparent.png" alt="bitcoin hyip" /> | <img id="pays_payeer" src="/img/transparent.png" alt="payeer hyip" /> | <img id="pays_ethereum" src="/img/transparent.png" alt="ethereum hyip" /> | <img id="pays_lite" src="/img/transparent.png" alt="litecoin hyip" /> | <img id="pays_bcc" src="/img/transparent.png" alt="bitcoin cash hyip" />
SSL security