bitmarketinv STATUS:
SCAM
---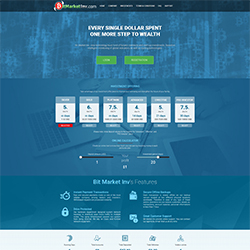 ---
About the bitmarketinv :
Supremacy on the stock market is a problem and can be handled only by a well managed company. In order to avoid and exclude the risk of potential losses, management of Bit Market Inv uses semi-aggressive trading strategy. The point of semi-aggressive strategy is balancing of optimal risk values with key indicators which has been setup for particular companies by our analysis department. Once the SWAT analysis is ready, the decision is being made the company can be included in our portfolio…..
---
bitmarketinv's plans are:
5% – 7.5% stable income daily
Plan
Spent Amount ($)
Daily Profit (%)
5% daily
$1.00 – $50.00
5.00
6.0% daily
$50.01 – $1000.00
6.00
7.5% daily
$1000.01 – $5000.00
7.50
Calculate your profit >>
4% daily for 14 days (deposit returns to user)
Plan
Spent Amount ($)
Daily Profit (%)
4.00% daily + 100.00% of initial deposit returns
$50.00 – $5000.00
4.00
Calculate your profit >>
5% daily for 21 days (deposit returns to user)
Plan
Spent Amount ($)
Daily Profit (%)
5.00% daily + 100.00% initial deposit returns
$200.00 – $7500.00
5.00
Calculate your profit >>
7.5% daily for 30 days (deposit returns to user)
Plan
Spent Amount ($)
Daily Profit (%)
7.5% daily + 100.00% initial deposit returns
$500.00 – $10000.00
7.50
Calculate your profit >>
---
: 5% Up To 7.5% Daily Forever / 4% Daily For 14 Days Up To 7.5% Daily For 30 Days
: 8%
: Dec 3, 2018
: $1
: $10000
: Bitcoin | Payeer | perfect_money | Adv Cash | litecoin
: SSL security