bitaeon STATUS:
SCAM
---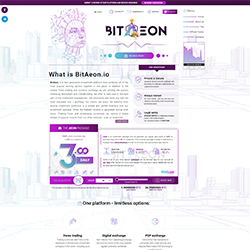 ---
About the bitaeon :
BitAeon is a next generation investment platform that combines all of the most popular earning options together in one place. In addition to the classic Forex trading and currency exchange we are utilizing the powers offered by Blockchain and Crowdfunding. We offer to take care of the hard part of the investment management, risk evaluation and leave you with the most enjoyable one – profiting. Our clients can enjoy the benefits from diverse investment portfolios in a simple and unified interface with our investment package….
---
bitaeon's plans are:
3.0% every business day 1.5% on weekends
Some or all of your initial deposit (principal) can be returned back to your account at any time, after the first 24 hours have passed. Principal return has a -10.0% fee that will be deducted from the returned amount.
---
: 3.0% every business day and 1.5% on weekends for lifetime
: 5%
: Oct 23, 2018
: 0.005 BTC
: 50 BTC
:
: SSL security